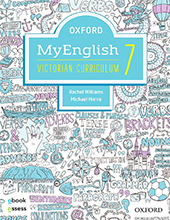 Authors: Rachel Williams and Michael Horne
Publisher: Oxford University Press (2017), 90 pages
RRP: $25.95 each
The Oxford My English: Victorian Curriculum series for years/levels 7, 8 and 9 would be a constructive addition to any school booklist or, indeed, would be a useful teacher resource for curriculum and lesson planning.
Aside from being visually appealing and, therefore, motivating, the series provides a highly structured and logical progression to guide students' skill and knowledge acquisition.
The books are divided into three parts, each suitably aligned to sub-strands of the Victorian Curriculum (i.e. text structure and organisation; expressing and developing ideas): Using Words; Organising Words and Ideas; Expressing and Sharing Ideas.
The My English series includes engaging units that appropriately scaffold the basic theories of grammar, as well as clear activities which put this theory into practice. Each unit is then placed into an engaging context, using news articles, story extracts or poetry. This structure and approach has many benefits, one being that it may pique student interest in broadening their reading; text extracts are sourced from novels including The Fault in our Stars, The Curious Incident of the Dog in the Night-Time, Animal Farm and The Hobbit. It also includes the poetry of Maya Angelou and Seamus Heaney, as well as myths and legends retold by Richard Baines.
Aside from many obvious benefits of guiding students to correct use of grammar, this series has many other advantages. The strongest section of each book is Part C: Expressing and Sharing Ideas, where students complete exercises that help enhance the quality of their writing and their precision of language. There are also interesting writing activities interspersed throughout the units that encourage creativity as well as implementation of the preceding theory.
Additionally, the series is a beneficial inclusion into the classroom as it assists in suitable differentiation. The accompanying obook includes interactive digital 'Upskill' content for student extension, as well as video tutorials for every unit. The books also contain useful glossary recaps at the close of each 'part', as well as full solutions to the exercises.
The My English: Victorian Curriculum series and obooks is an exceptional guide to many integral aspects of the Victorian Curriculum, presented in an engaging, accessible and interactive manner. It serves as a useful tool for teachers and students alike.
Samples of pages from this series can be found on the Oxford University Press website. Follow the prompts from https://www.oup.com.au/secondary/browse-by-series/myenglish
Reviewed by Melanie Van Langenberg, Sacré Cœur