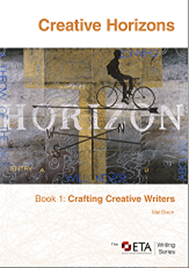 Author: Mel Dixon
Publisher: English Teachers Association NSW (2016), 116 pages
Price: $45
The first line, 'writing imaginatively is one of the hardest skills to master and it is also difficult to teach' resonates with me and with other teachers of English. The emotionless stares and blank pages in the classroom cause imaginative writing to become a chore. I know I'm not alone in hearing the cries of students stating 'I don't know what to write'. Mel Dixon's Creating Creative Writers breaks down the components of creative writing to provide students with the skills and terminology that they need in order to write a creative response.
This text is the first in a series of reference books that scaffolds secondary students into the writers that they need to be to succeed in secondary education. Other books in the series include:
Book 2: Creative writing ideas for the classroom
Book 3: Writing in different narrative forms
The text discusses key stages in the writing of an imaginative piece, and within these sections there are explanations for teachers and worksheets to provide students so that they can practise each skill. I particularly like the sections with student activities. These are written explanations that explain how to run tasks within the classroom to encourage students to write and develop ideas for writing. Whilst many of the tasks are familiar, or have been represented in one form or another in other texts, the activities are differentiated, clearly explained, and provide the chance to be adapted for any group of students.
Student worksheets are differentiated to enable any text to be used in conjunction with the task. These tasks include identifying elements of a story, describing the tone of a piece, or building a story. The worksheets include ample explanation with steps detailing what needs to be completed. The inclusion of images and text make the tasks clear, however at some stages there is little room to complete the written components of each task so supplementary materials may be required.
As students move through the six-step method to writing they are constantly questioned on the decisions that they make, as well as being referred to the rules of storytelling. To complete the writing process the text provides reflection questions that draw upon the Socratic model.
Crafting Creative Writers is suitable for secondary students in Years 7-10. The text could be used in its entirety as a sequenced series of lessons that take students through the process of responding and creating, or parts of the text could be used to enhance student creativity when needed. The resource inspires creativity and attempts to remove the barriers that are associated with creative writing; I feel that with repetition the text has the potential to inspire its user and those that they teach. Whilst the text refers to the Australian Curriculum (ACARA) and how the descriptors could be applied, it certainly isn't exclusive to ACARA.
Reviewed by Gracie McGuire, Cobden Technical School