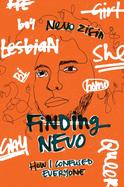 Author: Nevo Zisin
Publisher: Black Dog Books (Walker Books, 2017), 224 pages
RRP: $18.99
Finding Nevo is an autobiography from Nevo Zisin, a young human being who identifies as neither male nor female. Nevo's story is a fascinating and insightful one, as they take us on their journey from young girl who wanted to be a boy, through their tween years where they struggled to conform to society's expectations, to the teenager who came out as a lesbian with a loving girlfriend, to taking testosterone as a late teen to combat their gender dysphoria, and finally to the realisation that they don't fall anywhere on the binary spectrum.
What makes Nevo's story so captivating is their honesty and earnestness, as they describe how it felt not being accepted by the people around them, something that many young people can relate to, no matter their sexuality or situation in life. Nevo presents a number of themes and topics that are wholly relevant to our students and this would be a valuable resource to them, to help them realise that it's okay not to know, that they need to trust themselves, and that it will get better.
The glossary at the back of the book is helpful for those who have little knowledge about Judaism or the queer community, as are the resources (which includes beyondblue, Lifeline and QLife). For our students who are questioning everything about themselves, who are searching for a role model they can relate to and identify with, Nevo is a godsend, as they also provide a suggested reading list which includes a number of queer and feminist writers, but also a list of authors who have strong queer characters in their novels.
This would be an excellent addition to senior school libraries and also a text that teachers and school leaders should have to read to help develop understanding and empathy for our students who are in a similar situation. Nevo concludes their book by stating this: 'The world is scary for people like me. I hope you will think about what you can do to try and make that world less scary…So we can choose to be activists, not be forced into it.'
Reviewed by Lauren Maserow, Methodist Ladies College, Kew