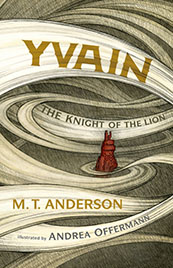 Author: M.T. Anderson (illustrated by Andrea Offermann)
Publisher: Candlewick Press (2017), 133 pages
RRP: $27.99
This beautiful graphic novel is based on a ballad composed by twelfth century French poet, Chrétien de Troyes, forming part of the legend of King Arthur and his knights. The opening imagery of the novel is striking; a falcon is unhooded and released by its handler, majestically taking flight over a forest where it spies a knight and horse, both bloodied and injured, slowly making their way to King Arthur's court. Through the clever blend of conversation and imagery on a tapestry in the background, the reader learns that the injured knight is Yvain's cousin who went in search of adventure (apparently the main pursuit of knights of the period) in the forest of Brocéliande. He finds a fountain and magical weather stone; pouring water on the stone releases a torrential storm, threatening the safety of the local dukedom and triggering an attack from the Red Knight, who sets out to defend his dukedom. Having established this backstory, the narrative soon centres on the adventures and struggles of Yvain, who sets out to challenge the Red Knight and avenge his cousin.
Having vanquished his adversary, Yvain soon falls for the Red Knight's widow, Laudine, whose scheming serving girl, Lunette, successfully convinces her to take Yvain as her husband. The turbulent relationship between Yvain and Laudine exemplifies the main theme of the novel, the co-existence of love and hate that 'may live cramped together crouching in the same heart'. The narrative highlights the challenges faced by women in medieval times. While Laudine is bound by her responsibility to provide a protector for the dukedom through marriage, Yvain is oblivious to Laudine's predicament and focussed solely on chasing adventure and glory, abandoning his new wife to compete in tournaments across the kingdom.
Offermann's artwork effectively recreates this tale of a knight who seeks redemption for his wrongs. Grey, yellow and green dominate the illustrations, emphasising the medieval setting, with splashes of red for the gorier action sequences as Yvain and his faithful lion companion combat dragons, giants, demons and challengers. These moments are enhanced by Offermann breaking from traditional block panels and using jagged lines to divide the frames. Another feature is the focus on eyes to convey the conflict and emotional turmoil experienced by the characters. Any of the pages of this graphic novel could open up some great classroom discussion of how visual elements can be used to convey meaning to readers.
Yvain: The Knight of the Lion is sure to appeal to students who favour historical fiction and are already fans of the graphic novel. It could open up some interesting discussions about gender roles amongst the nobility during medieval times as well as views on honour and duty. It would make a great addition to any wider reader program in Years 7-12.
Reviewed by Rebecca Fernandes, St Margaret's School, Berwick