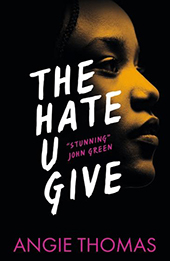 Author: Angie Thomas
Publisher: Walker Books (2017), 442 pages
RRP: $17.99
'…you matter and your voice matters.'
An unprovoked police shooting results in the death of Starr Carter's unarmed friend, Khalil. The incident thrusts Starr into the harsh reality of systemic racism that permeates not only her poor neighbourhood but her nation. This reality guides Starr to realise her voice is her biggest weapon; and so she uses it.
The Hate U Give is an important novel. Unashamedly inspired by the 'Black Lives Matter' movement, it exposes the inherent, entrenched injustices of the communities in which Black infants are born and raised, and which can't help but produce disillusioned youth. These consequences, and complications, stem largely from the impact and ramifications of drugs, both the use and trafficking of, and violence. They also arise from the ironies of the justice system. This novel helps humanise a reality that is far removed from many young adults'. Could many 16-year-old Australians imagine their parents sitting them down as children for a talk about 'the birds and the bees', as well as what to do should they be stopped by police on the street?
The novel's title comes from Tupac Shakur's refrain 'THUGLIFE: The Hate U Give Infants Fs Everybody', and is powerful in itself. With the 'U', the onus is immediately placed on the reader for potential attitudes, prejudices and 'hate' that they may (unwittingly) propagate throughout a community. It impels the reader to pause and reflect, prompting them to become bystanders within this story. It also opens readers' eyes to an unacknowledged ignorance that may exist toward the lives of others.
Thomas' The Hate U Give would be an excellent inclusion to the curriculum at Year 9 or 10. It is an empowering text that is broad in its thematic considerations and cross-curricular potential. A language warning would be needed, however this simply adds to the authenticity and strength of the narrative voice, ensuring reader engagement. The only criticism may be that aspects of the storytelling can become complicated due to the intricate relationships between characters, their histories and the competing narratives.
The Hate U Give is about so much more than the fatal police shooting and its aftermath. It is also a story about the tension between individuals' identities; the important familial bonds that stem from adversity, unity and love; the friendships that can transcend colour, class and status. It is about the compromises that some young people have to make because of the unforgivable wrongs of the adults around them or of people who should know better – as summarised in THUGLIFE. It is about humanising the Black lives that matter.
Above all, it is about finding a voice in amongst any and all adversity, and realising it matters.
Reviewed by Melanie Van Langenberg, Sacré Cœur