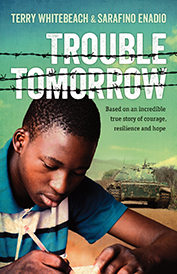 Authors: Terry Whitebeach and Sarafino Enadio
Publisher: Allen & Unwin (2017), 205 pages
RRP: $16.99
Trouble Tomorrow is based on the true account of author Sarafino Enadio's escape from Sudan during the Sudanese civil war. The novel is written through the eyes of the protagonist, a fifteen year old boy called Obulejo. His name means 'Trouble Tomorrow'.
We first meet Obulejo when the Rebel soldiers storm into his village. This event is the first of many attacks from Rebel soldiers. Obulejo is separated from his family when he is sent to boarding school, but future attacks force him to abandon his schooling and flee from place to place in order to survive. Although he finds friends along the way, he realises that he needs to look after himself.
Obulejo's journey leads him to a refugee camp in Kenya. Here, he struggles with many issues, including those relating to friendship, death/loss of loved ones, guilt, and religion. Obulejo resorts to violence, stealing, and bullying in order to obtain food and water to survive. He struggles with his choices as they go against his religion and upbringing.
Early in the book we are exposed to the enjoyment of learning and respect for education that Obulejo possesses. As time passes, Obulejo discovers that he has a natural talent for teaching. The character development of Obulejo is a pleasure to observe. He eventually realises that the way to resolve conflict is through discussion, cooperation and respect. He incorporates these values into his teaching by engaging in a related training program. He stops using violence, stealing and bullying to survive. The story ends positively, as Obulejo meets his future wife and migrates to Tasmania, where he later starts a family and works as a trainer of peace educators.
Trouble Tomorrow is a text most suitable for mature readers, due to the nature of the content. It is important to note that the harsh realities of life in war-torn countries are presented in this text. This content may not be suitable for some readers, including students who may have similar personal experiences. Although the age group suggested by the publisher is age 13 -18, I recommend suitable readers may be at a Year 9 - Year 12 reading level. It would be an ideal wide reading list novel or class text for older students. There are many issues within this novel, which may prompt rich discussions and reflections within learning activities. The novel also includes information about the civil war in Sudan, so readers will also learn about historical and current world events. The text is well-written and provides an honest, realistic account of life as a refugee.
Reviewed by Jessica Premier, Westall Secondary College