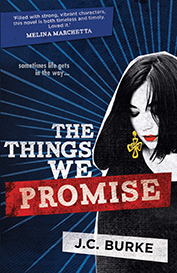 Author: J.C. Burke
Publisher: Allen & Unwin (2017), 370 pages
RRP: $19.99
J.C. Burke's novel is likely to resonate with those who grew up in Australia in the early 1990s. Burke not only recreates the popular culture of this era but also the fear and societal attitudes in response to the growing AIDS/HIV pandemic. Narrator, Gemma, is fashion-focussed and absorbed with preparations for her upcoming (33 weeks away) school formal. Her dress-maker mother is making her the perfect gown and her brother Billy, a hair and make-up artist working in New York, has promised to come home to work his magic on her for her big night. But Gemma senses that all is not right in her world. A recent episode of Degrassi High has ignited discussion in school about HIV/AIDS, her mother is defensive when she wants to phone her brother and his partner Saul in New York and she discovers that her brother's ex-boyfriend has recently passed away after a mysterious 'short illness'. Gemma's worst fears are soon realised and she must face the challenges and heartbreak that comes from discovering that her brother has contracted HIV.
Gemma is supported in her journey by the friends and adults in her life: her blunt and self-absorbed best friend Andrea, the sympathetic Louise Lovejoy, love interest and 'major spunk on two legs' Ralph, and her compassionate neighbours, Mr and Mrs Carpinetta. The characters in the novel provide diversity, moments of humour and optimism, and illustrate the range of attitudes towards those who are afflicted with HIV/AIDS. The novel has a clear emphasis on the lack of education on HIV/AIDs during the early 1990s as Gemma and her family encounter the misconceptions and fears of their community.
Burke effectively uses popular culture references to establish time and place: Gemma and her friends go to the cinema to see Pretty Woman, watch Video Hits, 21 Jump Street and Twin Peaks on television, listen to Salt-N-Pepa and Boy George and read Cleo and Cosmopolitan magazines. I really enjoyed these references to the 1990s, but wonder if they might be lost on younger readers.
This novel would be suitable as a wider reading or classroom novel for Year 10. It deals sensitively with challenging themes and issues, fostering awareness in young adult readers of this health crisis.
Reviewed by Rebecca Fernandes, St Margaret's School, Berwick