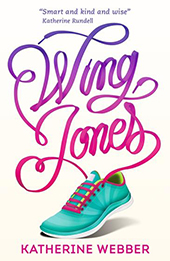 Author: Katherine Webber
Publisher: Walker Books (2017), 378 pages
RRP: $16.99
Wing Jones is the debut young adult novel by American author Katherine Webber. Following a somewhat familiar narrative, protagonist Wing doesn't particularly enjoy high school. As the younger sister hiding in the shadows of her popular older brother, she encounters bullying in the corridors daily. Wing doesn't do particularly poorly in class, but she isn't outstanding either. It isn't until tragedy strikes the family that Wing finds her stride in school, and amongst her peers and family. During midnight adventures, accompanied by her guardian dragon and lioness, Wing discovers a passion, and innate ability, for running. And it is the rhythm of her feet on the pavement that steadies Wing through the troubles she encounters.
This was a very enjoyable book that encompassed many of the aspects you would expect from the YA genre: love, relationships, family, drugs, alcohol, school, and most prominently, forging one's own identity. Webber has constructed a likeable protagonist in Wing, who is not preoccupied by her looks, but does have a desperate yearning to be accepted. Students will no doubt find this character relatable, particularly girls, as Wing negotiates the familiar territory of having a crush and figuring out which girls are really her friends. Webber has also done a good job of introducing drug and alcohol use, whilst also showing that there can be severe consequences for abusing them.
This text could easily be used in an English classroom, either as a set class text, a small group text, or as a recommendation for students in their individual reading. While the vocabulary and tone are appropriate for a Year 8-9 age range, the themes would be better suited to the Year 9-10 bracket. There are several references to drugs, alcohol, and sex, which have the potential to create positive discussions in classrooms, assuming the students in the group are mature enough. The overall messages, of finding purpose and individual identity, as well as dealing with grief in healthy ways, are certainly worth introducing to the classroom, and this novel provides several ways to do that. Additionally, elements of cultural identity, given that Wing is culturally Chinese as well as Ghanaian, speak to the multicultural society students are becoming a part of.
Reviewed by Elizabeth Little, Covenant College, Geelong