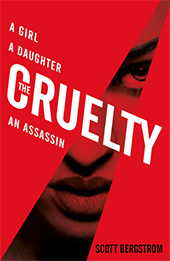 Author: Scott Bergstrom
Publisher: Walker Books (2017), 448 pages
RRP: $18.99
The front cover reads: 'A girl, A daughter, An assassin' and what you read is what you get. Think of a young adult version of the Jason Bourne. This is a fast actioned packed thriller of a novel that has love, death, mystery, crime, terrorism, suspense and kidnapping at its core.
Gwendolyn Bloom and her diplomat father have moved around the world to wherever her father has been posted and currently her father has been relocated to New York.
Gwendolyn is the odd girl out in her new exclusive school and doesn't really fit in and when she is suspended, she meets another student Terrance from her school while checking out Jazz records in Queens. There is a spark between them but their passion is interrupted when Gwendolyn discovers that her father has gone missing. It is a new love that has been thwarted so early on but Terrance becomes a vital support for Gwendolyn in her quest to find her father.
She finds out that there is more to her missing father and that he is just not a paper pushing diplomat she thought he was. He has been kidnapped by a known terrorist that he father has been tracking. This information sets Gwendolyn on a path far removed from anything that she has experienced in her 17 years.
When her father's Diplomatic Agency decides not to upset a diplomatic situation to find her father, this sets Gwendolyn on a course that she can never return from. She is trained to survive, to maim and to kill. These skills progressively advance as she becomes more skilled in defending herself and unfortunately in killing others in order to find her father. This mission takes Gwendolyn all over Europe as she trails her father's kidnappers through Europe's criminal underworld. She throws off the shackles of her schoolgirl image to become a skilled 'assassin' as she faces the truth about herself.
This book has you hooked from the first couple of pages until the very end and the frenetic pace of the story never lets up as you read about the further descent the main character. Any fans of thrillers, crime or suspense stories, then this book comes highly recommended. However, it would be suggested as a book for older readers (16-18 year olds) due to the violent themes and it could be included on a Year 10+ wide reading list. The author, Scott Bergstrom, has planned further exploits of Gwendolyn Bloom as The Cruelty is the first in a planned series.
Reviewed by Alison Hay, Yarra Hills Secondary College, Mooroolbark campus