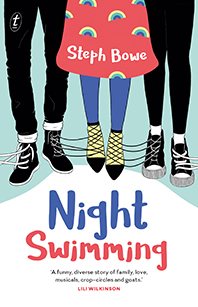 Author: Steph Bowe
Publisher: Text Publishing (2017), 312 pages
RRP: $19.99
Night Swimming by Steph Bowe is a love story with a twist about a girl, a boy and the new girl in town.
Kirby Arrow and Clancy Lee have been best friends since primary school and because most teenagers in the town of Alberton are sent to boarding school, these best friends find themselves as the only seventeen year old teenagers remaining in their small country town miles from any big town or city.
Kirby has strong roots to her town and to her family who live there and who have a record of leaving and she doesn't want to repeat her family's history but her mother wonders how she could not leave in order to make her mark beyond Alberton. Clancy is the complete opposite and can't wait to escape from the town's small confines, his parents and their Chinese restaurant.
Everything is on an even keel, Clancy dreaming and scheming his way to get out of town and make it big in musical theatre and Kirby desperately trying to stay, but things start to go awry when Iris turns up. She is the new girl, newly arrived from the big smoke, who works with her parents at the newly opened Indian restaurant in Alberton. Things start to get complicated when Kirby and Clancy both fall for the beautiful Iris.
The story is about how Kirby, Clancy and Iris fit with each other and their relationships with their families and their small town of Alberton.
Steph Bowe has written from a strong female perspective with Kirby being the main storyteller throughout the novel. She showcases Kirby's anxieties, fears, dreams about her life, her family, her future and who she loves. Steph tells Kirby's story as it chronicles a year from hanging out with Clancy to meeting Iris and falling in love with her to ultimately deciding what she should do with her life.
This book would be a good read for 14-18 year old girls in particular who could relate to Kirby's struggles in love, in life and with her family. Like Steph Bowe's other novels, she writes with a strong female and relatable voice. A recommended book for a secondary school library and for a Year 9/10 wider reading list.
Reviewed by Alison Hay, Yarra Hills Secondary College, Mooroolbark campus