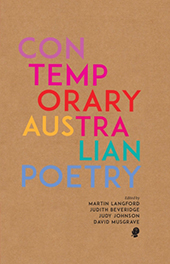 Editors: Martin Langford, Judith Beveridge, Judy Johnson, David Musgrave
Publisher: Puncher & Wattmann (2016), 658 pages
RRP: $49.95
This monumental new publication from Puncher & Wattmann is a treasure trove of Australian voices that will be an invaluable resource for all English teachers. The anthology collects contemporary Australian poetry from the last quarter century, including more than 200 poets and more than 500 poems published between 1990 and 2016. The four editors are all poets themselves (and Musgrave is the founder of Puncher & Wattmann) and their own works are also included in the anthology.
The poems are organised alphabetically by author rather than chronologically, which makes sense for a collection that focuses on a relatively short time frame and makes for some interesting juxtapositions if you're working your way through the text, so the venerable expatriate Clive James is preceded by young Melbourne poet Duncan Hose, for example. No poet gets more than six poems, so a glance through the contents page to see which poets get as many as five or six poems gives the casual reader some idea of the perceived eminence of the poets included (for the record, Stephen Edgar, Les Murray, Jan Owen, Peter Porter, John Tranter and Chris Wallace-Crabbe get six poems each).
In their introduction, the editors note the inclusion of many more migrant voices than have appeared in older anthologies of Australian poetry and the same would be true for Indigenous poets and women. In more than 600 pages of poetry there is ample room for the diversity to show through and for an Aboriginal woman like Ali Cobby Eckermann to stand alongside a staple of school poetry study like Bruce Dawe.
The great value of this anthology for English teachers is in helping to get them looking beyond the usual suspects when it comes to poetry that they can share with their students. It's all too easy for teachers to return to the old staples and while there is great value in revisiting those favourites it's also important to inject contemporary poetic voices into the classroom. There are many poets and poems here that I wasn't familiar with and that I will now be using in my classroom, such as Sarah Holland-Batt's 'An Illustrated History of Settlement' and 'The H Word' by Omar Sakr.
This terrific anthology is probably too expansive to be set as a class text but it is perfect as a teacher resource and I urge all schools to get a copy for their library.
Reviewed by Blair Mahoney, Melbourne High School