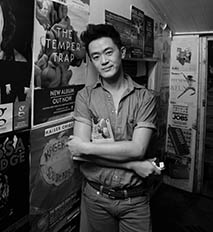 Benjamin Law is a TV screenwriter, journalist and newspaper columnist with a PhD in screenwriting and cultural studies from the Queensland University of Technology (QUT). He is the author of two books—the black comedy memoir The Family Law and travel journalism anthology Gaysia: Adventures in the Queer East. He is co-author with his sister Michelle and illustrator Oslo Davis of Shit Asian Mothers Say.
In his address, Benjamin discussed the stories he grew up with – and what it meant to navigate an Australian childhood where your family, your culture, and your face were largely absent from the bigger cultural picture. He asked: why is diversity important? What happens when it's missing? And what do we need to do to get there?
Delegates universally responded to Benjamin as an engaging and entertaining speaker though some questioned the educational relevance of his address. Others made the connection. As one said: 'Totally engaging and relevant to our teaching today—particularly in my school which has such a huge representation of students from other (mainly Asian) countries whose experiences of living in more than one culture and often with multiple identities, we tend not to draw on much in the curriculum. Thought provoking and entertaining. Perfectly pitched!' Another gave in to his 'inner groupie' in the presence of star power! 'He was awesome. Purchased his book afterwards, got him to sign it and a selfie with him and went home and watched all of The Family Law.'
Log in to view this article.