My English: Victorian Curriculum 7, 8, 9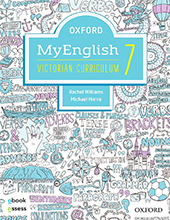 Authors: Rachel Williams and Michael Horne
Publisher: Oxford University Press (2017), 90 pages
RRP: $25.95 each
The Oxford My English: Victorian Curriculum series for years/levels 7, 8 and 9 would be a constructive addition to any school booklist or, indeed, would be a useful teacher resource for curriculum and lesson planning.
Aside from being visually appealing and, therefore, motivating, the series provides a highly structured and logical progression to guide students' skill and knowledge acquisition.
The books are divided into three parts, each suitably aligned to sub-strands of the Victorian Curriculum (i.e. text structure and organisation; expressing and developing ideas): Using Words; Organising Words and Ideas; Expressing and Sharing Ideas.
Read more...