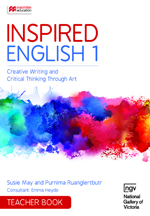 Authors: Susie May and Purnima Ruanglerbutr (NGV)
Publisher: National Gallery of Victoria and Macmillan Education, 2016
RRP: $21.99 (student books); $99.99 (teacher books)
The recently released Inspired English series is a pair of student workbooks with comprehensive accompanying teacher workbooks for the Years 7-10 English classroom.
The first book in the series is targeted at Years 7-8. The book consists of five 'projects' such as 'Descriptive writing' 'The language of popular culture' and 'The art of story telling: exploring contemporary issues.' Each project opens with a mix of well and lesser known artworks for inspiration and focus. Targeted exercises with very specific questions carefully guide students and encourage close analysis and interpretation of these visuals. A variety of writing activities then build on these skills and lead to a range of creative writing tasks.
The second book in the series is targeted at Years 9-10. The format is similar to the first book. The 'projects' within this book include those focused on themes such as 'Writing about war: multiple perspectives', 'Thinking and writing about issues: racism' and 'Imaginative writing: gender and social issues.' Other projects include 'Investigating and writing texts in different contexts' and 'Myth'. Whilst including art works for focus, these units also draw on inspiration material such as poems by new and established writers, quotations, memoirs and letters such as Malala Yousafazi's UN speech. Some more light-hearted activities such as researching the romantic lives of famous couples should prove engaging for students of this age. Each unit ends with tasks that require students to write in different writing text types such as myths, poems, letters, stories.
Whilst the activities in both books are organised sequentially so that you can pick up the book and teach easily, it is not necessary to do all of the suggested activities, leaving the teacher with a lot of choice for what is best for their class. Similarly, you can choose sections from these books to supplement and complement your existing teaching practice in this area.
The accompanying teacher's guide follows the same format as the student workbooks and gives detailed and relevant contextual information and explanations to make teaching easy.
Book 1 is suited to the Year 7 and 8 classroom and Book 2 aimed at Years 9 and 10.
Reviewed by Sophie Peters, Princes Hill Secondary College