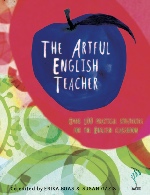 Editors: Erika Boas and Susan Gazis
Publisher: Australian Association for the Teaching of English (AATE), 2016, 312 pages
RRP: $49.95
This book is an excellent resource for English teachers at all stages: graduates, early career and experienced teachers alike, because it has over one hundred evidence-based practical strategies, tools and examples with supporting theory that English teachers can implement within their own classrooms. This book aims to create reflective, insightful and resourceful English teachers which, through the use of the strategies and tools provided, is very possible. Boas and Gazis have ensured every chapter has a guiding question to frame the chapter, a brief background, links to the Australian Professional Standards for Teachers and then looks at the theories and pedagogies behind the various strategies before examples of the various activities are given.
Each chapter is written by a different author who is a respective expert in their field which allows a broad and in-depth insight from a range of voices across Australia. For graduate or early career teachers, this book assists with giving innovative ideas that can be used in the English classroom as well as showing new English teachers how these ideas can be implemented practically. For experienced teachers, this book can give fresh insights and allow teachers to teach in new and refreshing ways. The chapters themselves, if followed through chapter by chapter, can allow English teachers to grow into artful, insightful and creative practioners. Although all chapters are very good, the four that struck me as the most useful for English teachers at all stages of their careers were: Chapter 1: Teaching English through textual concepts; Chapter 3: Learner engagement; Chapter 4: Differentiation; and last but not least, Chapter 6: Developing an inquiry approach. These chapters for me are the core fundamentals of good English teaching: to keep students engaged; inspire their passions for English; and maintain it through effective differentiation. These core fundamentals can then be improved upon by developing an inquiry approach both as an English teacher and for our students by getting them to think creatively and with nuance; essentially teaching them to think and not how to think. Overall, I would highly recommend this book as a resource for all English teachers at all stages of their careers and for all English Departments.
Reviewed by Sophia McQuillan, Bacchus Marsh Grammar School