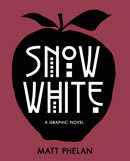 Author: Matt Phelan
Publisher: Candlewick Press (2016), 200 pages
RRP: $19.99
This graphic novel takes the fairytale of Snow White and transports it to the backdrop of pre-Depression era New York, where Samantha 'Snow' White is struggling against her greedy, attention-seeking stepmother. The storyline is broken into eighteen short stories or chapters, which makes the plot very easy to follow.
The beautiful and vivid illustrations are remarkably detailed and they propel the main ideas of the novel. Speech bubbles are used sparingly to convey the key dialogue but the novel does not feel too weighed down in dialogue, rather, the pictures are the main focus. In fact, parts of the story could be further developed with more dialogue because there are long sections that have only images. This is, however, a graphic novel, with the main emphasis on the images.
There are a number of side characters introduced to the reader throughout the course of the text. Some of these characters highlight some of the darker elements of human nature, while others remind the reader of the simple power of kindness. One difference from the fairytale is that Phelan's adaptation explores the perspective of a number of characters, rather than just remaining fixed on Samantha/ 'Snow.'
The artwork in the novel transports the reader to the 1920's New York setting. This also sees changes from the original fairytale to suit the style of the era (such as the mirror on the wall) but they do not detract from the story.
The graphic novel would be suitable for use as a teacher resource for Years 9 and 10 English or English Literature. The dark and moody images can be used as a springboard for a number of further discussions. This would complement a number of texts on school booklists, particularly regarding issues of gender, hope, optimism, societal criticism, heroes and suffering. There was also a very interesting recast of the seven dwarves. Overall, this could be described as a short, sweet but also beautiful take on the fairytale of Snow White.
Reviewed by Teresa Zanca, Thomas Carr College