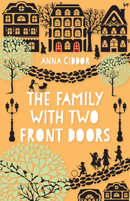 Author: Anna Ciddor
Publisher: Allen and Unwin (2016), 208 pages
RRP: $14.99
Ciddor's The Family with Two Front Doors is an informative, gentle read about the lifestyle of Polish Jewish family set between the two World Wars. Written in the third person, the adventures of the Rabinovitch family are portrayed in an engaging and innocent style.
The book offers insight into how a Jewish household is run. Cooking, cleaning and food gathering as well as family outings form the main portion of the text. The rituals and celebrations of the Jewish faith are included as well as the Jewish approach to arranged marriages.
The book centres on the life and interaction in the Rabinovitch family. The children are sent on errands, engage in religious activities and participate in various excursions. The manner of life in a well-to-do Polish family between the wars reveals a way of carefree living, where children learn household skills and contribute to the daily living of the family. But Ciddor does show that prejudice against the Jews was certainly alive at this time.
This is an easy to read book, Year 6 students could easily tackle this text. It would be a useful addition to a wide reading selection, where it would be a pleasant foil to read about a normal family, not beset by tragedy.
Reviewed by Yvonne Judd, Edinburgh College