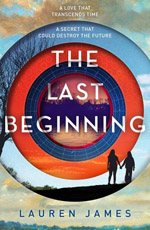 Author: Lauren James
Publisher: Walker Books (2016), 344 pages
RRP: $16.99
The Last Beginning is the second book in Lauren James' The Next Together series. Being unfamiliar with the first novel, I was concerned that there would be several gaps needing to be filled as I read, but this wasn't the case. Readers can easily jump into this book and pick up threads of the story. The premise of the first novel is that two lovers, Katherine and Matthew, play key roles in significant historical events before being tragically parted. Their story repeats in different eras as they are reborn, over and over, through the centuries.
The Last Beginning is set in Scotland in the year 2056 and focuses on sixteen year old Cloveas she comes to terms with the discovery that she is adopted and her real parents are Katherine and Matthew, renowned in her time for uncovering a plan by the English government to use biological weapons in the event of a war. Katherine and Matthew disappeared in 2040 and Clove is determined to find her biological parents. With the help of Spart, her household's Artificial Intelligence system, and taking advantage of her adopted parents' development of a time machine, Clove heads back to the year 1745, the earliest documented appearance of Katherine and Matthew, looking for information that might shed light on her parents' whereabouts. Complications arise when Clover inadvertently reveals too much information to the Katherine and Mathew of 1745, resulting in dramatic changes to her own time and jeopardising her own existence.
This is an engaging adventure story that teenage readers are likely to enjoy. James effectively employs a range of forms to develop the story - chat logs, film transcript, letters, extracts from biographies, NATO reports - all part of the 'File Notes' from the 'Clove Sutcliffe Archive'. Clove is a complex character, facing friendship, love-interest and parental angst, and as an LGBT protagonist, she reflects the author's concerns in providing diversity in fiction. Additionally, as a keen programming student, Clove also represents James' desire to show ordinary people who are interested and adept at science and technology. This novel is suited to readers from Years 7-9 as part of their wider reading.
Reviewed by Rebecca Fernandes, St Margaret's School