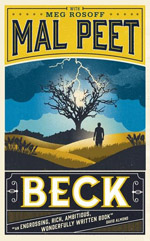 Authors: Mal Peet with Meg Rosoff
Publisher: Walker Books (2016), 267 pages
RRP: $24.99
Beck is the final novel of the acclaimed young adult writer Mal Peet. After a short battle with cancer, he passed in early 2015, leaving the manuscript to be completed by fellow author and friend, Meg Rosoff. Having recently attended a session with Meg Rosoff as part of the Melbourne Writers Festival, I was drawn to this collaboration of two award-winning writers. Beck, set in the early 1900s, is the harrowing tale of an orphaned mixed race boy, who finds himself transported from Liverpool to Canada for a 'new life'.
While he, and other orphaned boys, are promised adventure and opportunity, in reality they have been relocated to provide the country with much needed farm labour and they face mistreatment from those who are charged with their care. As the character Beck matures, he moves from one difficult situation to the next. He is physically and sexually abused by the Christian Brotherhood in an episode that is quite graphically depicted. He is degraded and starved by a farming couple who are alarmed at having a mixed race young man in their home, banishing him to the barn to sleep. Beck also spends long periods being homeless and tramping across the vast, severe Canadian landscape, in search of a place where he can find acceptance and belonging. There are life-affirming moments where Beck finds temporary shelter, safety and friendship, such as when he is taken in by compassionate couple, Irma and Bone, who introduce him to the world of bootlegging, as they run Canadian alcohol across the Detroit River into the United States during Prohibition.
This is a beautifully written novel, exploring the themes of hardship, survival and hope. It is ultimately uplifting, despite the trials that the protagonist must overcome to reach this point. Beck is a resilient and resourceful character who engenders the sympathy and goodwill of the reader. The transition between Peet and Rosoff's writing is seamless and there is an interesting note from Rosoff at the end of the book about the 'strange process' of completing another author's work. The novel contains several social and historical elements that provide opportunities for discussion in the classroom. However, I have reservations about this novel's suitability for the young adult (14+) audience suggested by the publisher. The scene of Beck's abuse at the hands of the priests is confronting, making this novel more suited to mature older readers (Years 11 or 12) as part of their wider reading.
Reviewed by Rebecca Fernandes, St Margaret's School