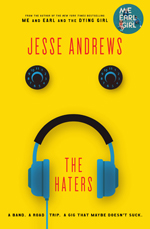 Author: Jesse Andrews
Publisher: Allen and Unwin (2016), 325 pages
RRP: $19.99
I loved The Haters from beginning to end (in fact the dedication preceding and the acknowledgements following are also wonderful…). If you also end up loving The Haters, then I would be happy to spend a few hours with you, sharing all the ideas and lines and references that we found hilarious and clever and irreverent and insightful and relevant and sharp and decisive and witty and heartfelt. This is my favourite part (although I have many more equally favourite parts:) – 'The Beatles: You can't really be a fan of them so much as a historian or palaeontologist.'
Jesse Andrews is an absolutely fantastic talent, a brilliant writer in the contemporary realism genre. If you like music and/or have played in a band (the parts when the characters are trying to think of a name for their band are hilarious!) then you will also love this novel. I requested The Haters to review because of the blurb on the front cover: 'A BAND. A ROAD. A GIG THAT MAYBE DOESN'T SUCK.' That was enough for me. But the way the story is told, with the shift from second to third person, the use of different fonts and text modes, the direct invitation for the reader to use the internet to interact with the ideas being explored, totally blow this novel into new and really, really, really exciting territory. Other writers I am reminded of (in a really good way) include: Nick Earls, Nick Hornby, John Green and John Birmingham. Interestingly, all these authors, including Jesse Andrews, are men, but it seems to me that they deal with female characters in a sensitive and insightful manner.
This story is about the adolescent brain, or at least three characters who are at that age when their adolescent brains lead them to do things that mean their lives and actions are in a constant state of flurry and chaos; always searching for novelty and adventure, their whole reality and perception of choice being guided by their peers. Adults (teachers and parents and parents who are also teachers) are present but distant. This story is about being young and impulsive and creative and full of bursting, unbridled, enthusiastic HOPE. This novel made me laugh, cry, sigh, reflect, remember and feel. I read it within a two-day period; every time I put it down, I looked forward to when I could get back into reading again. Perfect for Year 10s and if you and your school are brave enough, put The Haters on the Year 11 reading list…go on, I dare you!
Reviewed by Jon S. Williams, Princes Hill Secondary College
Jon S. Williams has played in bands with the following names: King Biscuit Time, By Way Of, 3 Sisters, Colour Jungle, Looking Big Sky, What Matters?, Haunted Stage, Inside Out, The New Leaves, Angry Pawns, City of Cool, Heavy Meditation.