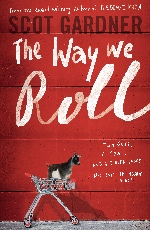 Author: Scott Gardner
Publisher: Allen and Unwin, 2016, 197 pages
RRP: $19.99
The idea that 'reading novels will make you a better person' is a justification for reading often cited by teachers longing to inspire a love of reading in their most reluctant and recalcitrant readers. You know the ones. It remains a challenging task to find novels that might to appeal to young people like these whilst retaining a strong enough moral compass to meet our ethical responsibilities as teachers and parents.
Knowing of Scott Gardner's interest in, and insight into, the problems faced by 'high-risk teenagers', it is no surprise to find that this novel deals with so many of the challenges faced by apparently disaffected young men; physical violence, teen sex, homelessness, crime, drug use, alcohol use, gender identity, racial tension, family breakdown. Nevertheless the idea that 'there are decent people out there' is established early on and the novel continues to explore and reinforce the fundamental importance of honesty and loyalty in relationships both romantic and familial.
Opening in the food court and car parks of a shopping centre, the novel is set amongst the shabby weatherboard homes and apartments of Sydney's western suburbs. The story is narrated by the graciously mannered, and highly resourceful, private school dropout, Will. Through his eyes, we are given insight into his growing friendship with fellow supermarket trolley boy, Julian from 'juvie'. Will is drawn to the warmth of Julian's damaged, but not yet broken, family. This newfound security provides Will with a starting point for sorting out his own heartache, allowing him to find the strength to confront the hurt and betrayal that led him to run away from his own, outwardly privileged, life.
Dialogue drives the narrative and it is through the dialogue that the plot and characters are slowly revealed. And I mean slowly. This is no roller coaster ride. The advice to 'brace yourself' for 'a rattling urban bromance' is overblown. The novel's heart lies in exploring the internal conflicts of Will's adolescent thoughts and feelings, and this is achieved quite convincingly. Descriptive detail is limited to a few rare and somewhat incongruous metaphors; 'the broad savannah of the southern car park' and the 'pythonic trains of fifty trolleys'. Nevertheless, its twenty-six chapters are short enough to maintain the pace of the story and their single word titles form an engaging lexicon of teenage slang; 'Smashed', 'Shagged', 'Partay', 'Gangsta'.
Aimed at 14-18 year olds, particularly those more tough and troubled boys, this novel might be a suitable choice for Literature Circles providing a high interest text for weaker Year 9 or 10 readers.

Reviewed by Lesley Milne, Wangaratta High School