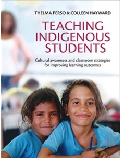 Author: Thelma Perso and Colleen Hayward
Publisher: Allen & Unwin, 2015, 275 pages
RRP: $65
Thelma Perso and Colleen Hayword's book is an essential companion for all teachers teaching Indigenous students in Australian contexts. It gives teachers practical and versatile strategies for teaching indigenous students which if used properly, can make a visible difference in the learning outcomes and opportunities of these students. It is a seminal piece of work because it focuses on strategies for developing empathy, sensitivity and understanding of Indigenous students' cultural backgrounds, building strong teacher-student relationships and effectively managing student behaviour. These are three crucial tenants that I believe are the keys to successfully teaching indigenous students in the classroom. Thus, any teacher that uses this reference book properly will inevitably find success in their classroom in teaching Indigenous students.
Perso and Haywood's numerous years of experience in teaching and research provide a rich fabric of how to work with the varied learning styles of Aboriginal and Torres Strait Islander students. They also show teachers of how to bridge the gaps between the curriculum demands and learning styles of Indigenous students. I found this text awe-inspiring because it set my mind alight with ideas and practical strategies that I could implement within my own classroom to teach Aboriginal and Torres Strait Islander children. I believe the focus on the challenges teachers face when teaching Indigenous students in remote locations is particularly important because it is an issue that is not addressed in-depth at times, which leads to a shortage of good teachers in remote Indigenous communities. It also allows teachers to apply these strategies to whatever context they are teaching in whether that is in the cities, regional or remote rural areas and regardless of whether they are teaching a large class of thirty students or just one student. I have always passionately believed that education is the key to breaking the poverty cycle and overcoming disadvantages, Perso and Haywood's book allows this to ring true and apply it to our Indigenous students who are arguably some of our most disadvantaged students in Australia. Their book therefore allows us, if used probably, to overcome this issue and create fair and equal educational outcomes for our Aboriginal and Torres Strait Islander students. My final recommendation of this text is for it to be purchased as a school set for every teacher as an essential reference book, irrespective of whether they teach Indigenous students or not, because it is an important context of which they need to be aware as Australian teachers and it is also part of our National Professional Standards for Teachers.
Reviewed by Sophia McQuillan, Bacchus Marsh Grammar School.