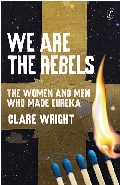 Author: Clare Wright
Publisher: The Text Publishing Company, 2015, 256 pages
RRP: $19.99
Clare Wright's book is non-fiction, historical text that documents the untold story of the women who were part of the Eureka Stockade. Wright's writing is eloquent and engaging which makes this text easy, accessible and enjoyable. It is a concise version of Wright's original Stella Prize winner book The Forgotten Rebels of Eureka, originally published in 2013. Wright's text allows the women's voices to be heard which they have previously been 'invisible' in previous historical writings on the Eureka Stockade. Wright's book provides an interesting overall narrative that is interwoven with the stories of the women and men who made Eureka, not dissimilar to how the Eureka Stockade flag was stitched together with many different pieces of fabric to become whole. Wright's chapter titles are clever, witty and make many classical and contemporary allusions such as "Great Expectations' and 'All the Single Ladies' which will further add to the students' engagement with this text.
The endnotes and bibliography of primary and secondary sources that Wright has provided give students the opportunity to undertake further research into certain topics for text response, persuasive or creative response essays. I would also recommend that if a school decides to study this invaluable text in their Year 9 and 10 English classes, that they purchase a few copies of Wright's original 2013 work as a teacher and student in-depth reference book or as part of a wider reading list. My final recommendation for this text is for it to be used as a class set for students and teachers alike to use in Year 9 or 10 English classes in both coeducational and single sex schools. It would suit students ranging from 15-16 years old. It would also be a good companion text to students in Year 9 English who are also studying Year 9 History which has a unit on the Victorian Gold Rush and the Eureka Stockade, because it will allow those students to see the feminist perspective. Thus, this text creates cross-disciplinary approaches with History and English. This text also allows teachers to complete the compulsory Australian author or text component of their texts lists using this very accessible and captivating text. I know I will certainly be recommending Wright's We are the Rebels to my English department.
Reviewed by Sophia McQuillan, Bacchus Marsh Grammar School.