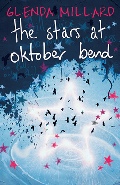 Author: Glenda Millard
Publisher: Allen and Unwin, 2016, 266 pages
RRP: $19.99
Glenda Millard is a prolific and well-known Australian author. But, as luck would have it, I had not read her before this but, now, I would consider myself a convert. The Stars at Oktober Bend is a beautifully written, first person narrative. The main protagonist, Alice Nightingale, is a fifteen-year old girl who is unable to speak clearly. She lives in a country town with her younger brother and dying grandmother. The other protagonist, Manny James, is a young refugee living with a local family.
The Stars at Oktober Bend is a compilation of Alice's diary and Manny's thoughts. In the diary Alice writes of her dreams, her daily life and the nightmare that follows her. The writing is lyrical and well crafted; it is like reading poetry. Millard utilises an interesting first person authentication technique of no capitals at the beginning of sentences, but there are enough grammatical clues and punctuation to allow for fluid reading.
The sections where we are privy to Manny's thoughts, Millard changes the font slightly and utilises correct grammar and punctuation. There is no confusion; Millard expertly denotes each character so the reader is able to follow the story with ease. Given that we are not privy to the incident that changes Alice's life until much later in the text, it is somehow comforting to know what both central characters are thinking.
The characters themselves are intriguing. Alice cannot articulate effectively, she suffers from fits and some form of delayed trauma. She is unable to attend school, writes poignant verse, leaves notes for strangers to read and makes unique and intricate fishing flies. Her family is mostly dysfunctional, her father missing in action, her mother is following some musical career, the grandfather is incarcerated and the grandmother seems to be slowly dying of emphysema.
Manny is a refugee who has witnessed horrors beyond comprehension and participated in actions for which he cannot forgive himself. He finds one of Alice's notes and is drawn to this damaged artistic girl. The Stars at Oktober Bend is their story. It is a beautiful story. It is a weeper.
This would be an excellent text for wide reading for Year 9 or 10 students. As a class text I think, given the subject material, that it would be suitable for Year 10 at the earliest. It seems too fragile to be exposed to the robust and sardonic world of the class text. I don't know how I would deal with all that hurt and emotion in a regular classroom. Yet I would recommend this book, to lovers of reading.
Reviewed by Yvonne Judd, Edinburgh College.