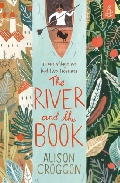 Author: Alison Croggon
Publisher: Walker Books, 2015, 135 pages
RRP: $16.99
Croggon's The River and the Book is a gentle allegory. It is endorsed by Amnesty International as a means of focussing on human rights and how easily those rights can be violated.
The story begins somewhere in a village by a river. The area surrounding the village is being developed and the river, the life-blood of the community, is impacted by the changes. The villagers rely on the river for their crops, for bartering and links with the outside world. The change in their environment is gradual and the villagers manage the vagaries of the river with equanimity. They are empowered and guided by a sacred book. One of the village families is entrusted with its safe-keeping.
One day the village is visited by a foreigner who claims to want to help the villagers protect their land and the river. This foreign woman, hosted by the family who are the Keepers of the Book, is fascinated by this ancient text. Following the visit by this strange woman, it is discovered that the sacred book is missing. And thus begins the quest by the first person narrator, Simbala, to find both the book and the woman who stole it.
This was an easy to read to book whose message about the corruption by the wealthy and powerful first world nations of the countries that retain the livelihoods and customs of their forefathers is powerful. It is convincing tale where progress not only changes land but lives. It depicts the powerlessness of the local inhabitants whose trusting, naïve natures make them easy targets for the manipulation of self-interested parties. It also raises questions as to the morals of those who identify themselves with the underdogs and claim to want to help. It is not a comforting thought.
The River and the Book is an enjoyable book. The language is not difficult and could well be understood by Year 7 and 8 students. Its suitability would depend on the maturity of your students. The concept of the immorality of third world nations being exploited by the first world is a fairly simple and easy to transfer notion but this text raises other, more complex issues. And, most likely, these would best be tackled by older students.
Reviewed by Yvonne Judd, Edinburgh College.