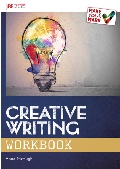 Author: Anna McHugh
Publisher: Macmillan Education, 2015, 133 pages
RRP: $19.99
There are so many creative writing texts available but for some reason I always crave more, what else is out there that I can use to help my students improve this aspect of their writing? The advantage of the Creative Writing Workbook is that it is written as a series of workshops each designed to address different aspects of creative writing. Worked examples throughout the text allow students to clearly see how a completed task should look. However, I was less impressed with the examples available online via the website as a support to the text. The idea is great, the reality though is that the examples are so very obviously 'good' or 'bad' that I don't feel it is very helpful for students. The fact that the first example is always the 'best' and the second the 'weakest' also means this support is less helpful.
The chapters I particularly liked and will be using with my classes are:
'Making a Protagonist': This chapter provides some interesting ideas for students to use as they develop a character; it could be adapted and used for students from Year 7 onwards. I will be using aspects of it for my VCE English and Literature classes. The worked example provided would be more easily understood by senior students.
'Plot': This chapter explores the structure of narratives and variations of plot order. It provides students with the metalanguage required to write about narratives as well as providing them with the skills required to develop their own.
'Editing your Narrative': This chapter allows students to work through each section of their creative writing and has a checklist for them to follow.
Overall, I think this is a great text to add to my bookshelf. It would work well as a class set, the biggest problem it creates is that you need students to complete the work in their own books and they don't have continued access to the information in each section. This type of text would be much more useful if you were using it more than once so that students could develop more than one creative piece. It would be perfect if it had space for three or four attempts at each section.
Reviewed by Susan Stinchcombe, The Grange P-12 College.