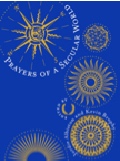 Editors: Jordie Albiston and Kevin Brophy
Publisher: Inkerman & Blunt, 2015, 150 pages
RRP: $24.99
Prayers of a Secular World is a compilation of poems edited by Melbourne poets Jordie Albiston and Kevin Brophy. The anthology contains roughly one hundred poems, selected via an online submission process which called for "poems like prayers that resonate and are relevant to our secular society" (Australian Poetry, 2014). Many of the poets whose work is represented here will be familiar to readers of modern Australian poetry: Judith Beveridge, Chris Wallace-Crabbe, Cate Kennedy, Andy Jackson and Lisa Jacobson to name a few. This compendium is like most others published in the last five years, as it mostly contains work from award-winning poets.
Externally, it is a beautiful little book with gold foil inlaid on the royal-blue cover. This beauty is echoed inside by the poems which are meditative moments. In 'Touched', Gita Mammen dwells on the significance of a monarch butterfly which escorts her "to the gates of a nymphalid nirvana". Cate Kennedy describes the miracle of the father of a boy with cerebral palsy who "shimmies him under" a broomstick limbo at the primary school disco. These poems are contemplations; little bubbles which float momentarily in the reader's mind and refract meaning, however they do not read like prayers or blessings. Although the anthology is broken into five sections with curiously named titles such as 'Believe there's a road to El Paso', it is hard to see connections between the grouped poems. Evident are emphases on nature, love, life, death and relationships – which are universal to poetry anthologies.
The introduction by scholar David Tacey ruminates on the idea of "secular sacredness". His words are indeed scholarly, as he brushes over Derrida, post-colonialism, Nietzsche, and consciousness. This immediately puts the book well out of school students' reach; even adults may find the poetry a little too ethereal. However, like most poetry anthologies, Prayers of a Secular World is best read by dipping in and out; choosing poems according to their title, author, or the reader's whim.
Perhaps another useful way to read this poetry is to examine the variety of forms: a concrete poem sits next to a tight couplet-stanza form, which follows several free verse poems. Although poetic devices abound, there is no rhyming, which fits neatly with the current trend in publishable poetry. Students may be interested in exploring the diversity of styles in this collection, but this can just as easily be done by looking at other, more relevant anthologies, such as The Best Australian Poems series which is published annually.
As a teacher resource, Prayers of a Secular World is useful. I have selected several poignant poems which I will use for a creative writing class. It is true that the moments described by these poets are little epiphanies which could be enjoyed by adolescents and educators alike. Whether or not they are prayers is debatable, however the distinction is secondary to the resonant, evocative poems which comprise this anthology.
Reviewed by Kate Broadley, Siena College.