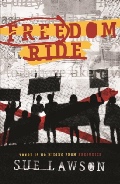 Authors: Sue Lawson
Publisher: Black Dog Books, 2015, 367 pages
RRP: $17.99
Robbie's summer holiday job becomes much more than just a way to escape the stifling environment of his Nan's house. A coming of age tale that explores hidden family secrets against a backdrop of simmering racial tensions.
Set in a fictional small New South Wales outback town, Freedom Ride offers a chance for students to explore a range of 'issues' in a very accessible form. Robbie Bower and his father have moved back to live in Walgaree after the death of his mother. A chance meeting with the local caravan park owner leads to an offer of a summer job. This begins well, but then Micky comes to work there too. Robbie has to rethink everything he has been told about the aboriginal population on the edge of town. This affects his relationships with his peer group and his perceptions of the adults in his life. With echoes of A Curious Incident of the Dog in the Night-Time, revelations about the fate of his mother, and some questionable actions by his father, further compound Robbie's dilemma.
Using the real life event of the 1965 Freedom Ride by the Sydney University Student Action for Aborigines lead by Charles Perkins, and supported by Ted Noffs from the Wayside Chapel, Lawson has woven an engaging tale of the challenges of being a teenage boy. Shifting friendship groups, dealing with bullies, wanting to fit in, having to meet the expectations of parents and grandparents, first stirrings of attraction are juxtaposed against the cultural divide that was race relations in the 1960s.
Some of the language will be challenging to a modern reader, Lawson has gone to great pains to establish the mood of the time so the novel (as the authors note warns) 'features expressions and derogatory words that were commonly accepted in 1965'. As Lawson goes on to say, today these words are 'ignorant, racist and demeaning', and therein lies one of the great values of this text; the opportunity to open the discussion about language, and its power to exclude or include.
The text will also enhance any theme study of: discrimination and prejudice; inclusion; justice; rites of passage/coming of age; bullying; and friendship. Having used Deadly Unna with Year 9, I would choose this text in preference; despite the time frame, it feels less dated for current readers and much more readable. The concepts covered though are probably more appropriate for Years 10 and 11, especially the discussion of the visits the town's men make to the mission on Friday nights. Definitely for consideration as a class text, or on a wide reading list for Years 9-11.
Reviewed by Alicia Forster, Kerang Technical High School.