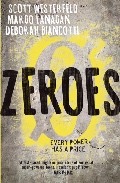 Authors: Scott Westerfield, Margo Lanagan, Deborah Biancotti
Publisher: Allen and Unwin, 2015, 485 pages
RRP: $16.95
Having really enjoyed writing by Westerfield and Lanagan, I was really looking forward to Zeroes. While I eventually found it quite gripping, I struggled to be engaged in the early section. It took a while for the 'voice' to settle, perhaps a result of three authors also trying to find the level that worked best in a co-operative setting.
Once into the story, and with the characters established, the narrative races along. A group of older teenagers with special powers, and an obvious history together, come together for a rescue mission. These 'powers' are not the usual suspects, but rather abilities that set them apart – the blind girl who 'sees' through others' eyes, the young man no-one can remember - powers that don't make them heroes, instead they choose to call themselves Zeroes.
And then there is Ethan, the boy with another voice inside him which says things Ethan can't possibly know. He realises, after being on the outer from the group, that 'he wanted be a Zero…pretending to be superheroes instead of knuckleheads who should be locked away.'
The plot has all the adventure tropes: the threatening thugs, the bank heist, the bag of money in the wrong hands, the characters in the wrong place at the wrong time and, of course, the grand finale where all the threads of the story come together, literally with a bang.
Students who have read all of the Robert Muchamore Cherub and Henderson Kids stories and the Paterson Maximum Ride books may find Zeroes the next obvious stepping stone. This may make it sound like it is aimed more at boys who are seeking action and adventure books, but girls like action too, and will also respond to the characters and their relationships. However, at 485 pages it may put off some of the readers you are trying to encourage. Showing them the book, so that the short chapters, large(ish) text and wide spacing is clear, may get a few more to make the attempt. The students I have given it to have really enjoyed it, but came back with the same comment about needing to persevere in the first few chapters until they understood who everyone was and what was going on, then they loved it on the whole.
One for the library shelves, or list it in your wide reading recommendations under thematic headings: action, adventure, friendship.
Alicia Forster, Kerang Technical High School.