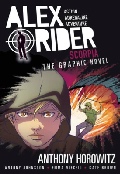 Authors: Antony Johnston, Emma Vieceli, Kate Brown
Publisher: Walker Books Ltd., 2016, (based on the original novel by Anthony Horowtiz, 2004), 134 pages
RRP: $19.99
Award-winning graphic novelist Antony Johnston, New York Times bestselling illustrator Emma Vieceli, and renowned comics artist Kate Brown bring Anthony Horowitz's dark and captivating story Scorpia to life. The central character is Alex Rider. Alex Rider is an ethically torn (but morally worthy) undercover teenage special agent who has to encounter international espionage, double crossing, greed, vengeance, triple deceptions, cold war political repercussions, and the potential death of thousands of children. It's a gripping read, raising some rich contemporary socio-political and philosophical conundrums, and is entirely worthy of the teenage audience to which it is targeted (a pun 'worthy' of the text). For those of you who already know Alex Rider and his exploits (either through novel or film), you will not be surprised or disappointed. This graphic novel delivers. It took me an interrupted two hours to read it.
I read this graphic novel with the perspective of how it would translate to Year 7-10 readers. As an English teacher I am (as we all are) regularly confronted with ambivalent and resistant readers. It is a (unfortunate) reality that students are consistently presented with a conservative (read: boring!) compulsory reading text list by teachers and schools. Thus, this graphic novel allows some opportunity for the student to escape into a world that whilst it is not familiar in a realist sense, is familiar in a fantastical sense. It has constant recognisable reference points to secure the teenage reader into a place of confident understanding. The internal thoughts of the characters are constantly and consistently revealed, allowing a complete and direct understanding of the immediate and unfolding action (and there is PLENTY of action!). Scorpia is ideal for wide reading. It is a "… quality example of the genre... A worthy addition to any graphic novel collection." [Read Plus]
Scorpia is a hyperkinetic, fun-filled, action-packed, non-stop narrative. This energised momentum is further fuelled by the lay out and artwork of the graphic novel. The use of different sized panels keeps the reader's eye moving and searching for the next piece of action. The artwork is faultless and emotive and the colouring and shading is dramatic and quite stunning. Not only is Scorpia an exciting story (if not slightly unbelievable, but let's get real this is escapism!), but also it is a beautiful work of art. "This adaptation is sharp and poignant... [the] easy blend of action, invention, youthful rebellion and engaging James Bond pastiche is perfectly captured." [Win Wiacek, Comic Creators Guild]
The portrayal of women is somewhat limited and the subjective value of one person's life against another that is presented raises concerns, but I leave these issues for the potential reader to dwell upon…
Reviewed by Jon S Williams, Princes Hill Secondary College.