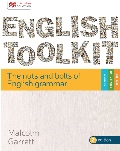 Author: Malcolm Garrett
Edition: 2nd edition
Publisher: Macmillan Education, 2015, 204 pages
RRP: $29.99
Grammar is a beguiling beast. For those so inclined (and I include myself in this group), grammar is an exponentially entrancing journey into meaning and possibility. For those not so inclined, grammar is a maze of exclusivity, confusion and contradiction.
I deliberately requested this textbook to review. My (self-) interest came from my newly appointed status as an English Language teacher and my need to add to my arsenal of reference materials. And English Toolkit: The nuts and bolts of English grammar, delivers with expertise, accessibility and specificity.
The first thing I noticed was its size: A5. Easy to fit in the hand and carry to a class. And the layout: colour coded into 3 sections: Grammar, Punctuation, Spelling. Easy to use and navigate. Plus it has a series of exercises with the answers in the back – perfect!
The next thing I was interested in finding out was whether this text provided ideas and activities that I can (seamlessly) incorporate into my classes. At all Year levels, 7-12, students make recognisable mistakes that often fit a pattern. This text recognises such patterns. I think the fact this text is written by a retired English teacher, demonstrates the author's experienced empathy for student needs. An example of the author's thoughtfulness and understanding of student needs is found in the spelling section where he includes sections dedicated to: "Classic spelling errors: ie or ei" and "Their, there and they're" and "Were and where" and "-y and –ies endings" and "Your and you're" and… (the list continues).
The layout is immediate and entirely readable. The explanations are sophisticated and fluent. The colour scheme is consistent and really helps. Quite simply this is a marvellous text that I look forward to dipping in and out of for many years to come. I recommend this text for any teacher of English, English Language, EAL or Literature. Sometimes specific and technical grammar questions from students (of all year levels) need specific and technical answers. This text provides that. Sometimes students need reminding of certain reoccurring areas of grammar difficulties. This text provides that. Sometimes teachers need to remind and (re) educate themselves regarding the rules and vagaries of grammar, punctuation and spelling. This text provides that.
Reviewed by Jon S Williams, Princes Hill Secondary College.