Making the kids 'feel okay' inside their skin
...in the face of blanket, dictated and didactic approaches to education which threaten to rob them of their individuality and dreams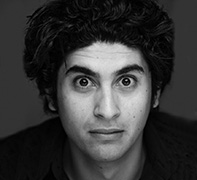 Osamah Sami is an Australian actor/writer/comedian born in war-torn Iran to Iraqi parents. He is recognised as a 'notable Australian Muslim' by the Commonwealth of Australia. He wrote the critically acclaimed memoir Good Muslim Boy and the script for Ali's Wedding, Australia's first 'Muslim rom-com' which opened the 2016 Adelaide Film Festival. As well as starring in Ali's Wedding, he has appeared in Tony Ayres' Saved and Mohammad Ghobankarimi's Journey.
Delegates found Osamah's 'address', as one put it, 'entertaining and informative at the same time.' Another described it as entertaining with some very poignant moments'. And another had not realized it was a performance but felt that the conference 'needed more performance sessions like this.'
Log in to view this article.