Idiom, The Journal of the V.A.T.E., Conference Issue, August 1970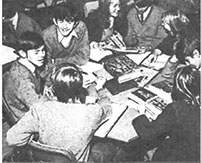 The following four papers were presented at the opening general session of the 1970 VATE Conference, and take as their general linking theme developments in English teaching in England and America. The Dartmouth Seminar of 1966 to which the speakers refer was an historic Anglo­American occasion bringing together experts in various fields of English to discuss problems of teaching it.
In 1969 Dr. Ian Hansen and Dr. Brian Sureties attended the Manchester Conference of the National Association for the Teaching of English (U.K.), and Mrs. Esta de Fossard and Mr. Laurie Arter taught in the U.S.A. as Fulbright Exchange Scholars.
Included in this issue of Idiom also are some comments which some members submitted at VATE's request after the Conference.